1. Ocean Species Set for Reshuffle
Scientists have predicted that by the end of the century the oceans could experience a massive reshuffling. A phenomena of this magnitude has not happened in more than 3 million years. You may be asking- why is this happening? The answer is climate change. Around 93% of the heat trapped by human greenhouse gas emissions end up in the ocean. A new study in Nature Climate Change compared the future climate and life against what is known about the distant past. Read more...
-----------------------------------------------
2.
Is June 8th Marked on Your Calendar?!
No? Well, June 8th is the World Oceans Day which also overlaps with National Oceans Month. In preparation for the month long awareness, President Obama made a speech on the importance of our oceans. He stated that " Our marine environments contribute to our food supply, bolster our economy, strengthen our national defense, and support important scientific research and innovation". We here at Sea Save are calling our readers and supporters to action this month. Whether it is working on a marine conservation project, signing a petition, or even just educating yourself on the current state of our oceans, every little bit helps!
Read more...
-----------------------------------------------
3. Regrettable Status of Fish Stocks Conflicts with Political Commitments
This week, the European Commission published the annual report on fishing opportunities. The report shows that fish stocks in both the Atlantic and Mediterranean are deteriorating. The overfishing has impacted the cod and sole populations in the Atlantic and hake and swordfish in the Mediterranean. The report outlines a set of principles to be implemented on fishing in 2016. These principles help define compatible fishing rates with the maximum Sustainable Yield. Read more...
-----------------------------------------------
4. As the World Warms, Ocean Habitats Shrink
A team of researchers at the University of Washington have determined that the warmer water temperatures will increase animal's need for oxygen. While increasing the animal's metabolic need, the water temperature will also hold less oxygen. This will cause many species to migrate to new habitats and/or develop respiratory issues leading to death. The report, published in Science, studied the impact of increased water temperatures on four Atlantic Ocean species. Read more...
-----------------------------------------------
5. World's First Ocean Cleaning System to be Deployed in 2016
A company named The Ocean Cleanup, announced that they will deploy the world's first passive pollution clean up system in 2016. The mechanism is a 2000m long floating structure that has the potential to clear out 42% of the plastic floating in the Great Pacific Garbage Patch over a ten year period of time. Although this system may not completely eradicate all ocean pollution, it would certainly be a step in the right direction! Read more...
-----------------------------------------------
6. Underwater Views from Your Desk!
Unfortunately, all of us can not spend every day scuba diving and taking in the magic of the underwater world. This month we are in for a treat! XL Catlin Seaview Survey, NOAA's Office of National Marine Sanctuaries, and the Chagos Conservation Trust have partnered on a new image project. Now Google will be able to provide the public with Street View imagery of 40 underwater locations around the world. This view will even let you virtually swim alongside marine life! Read more...
-----------------------------------------------
7. Rare "Sea Serpent" Oarfish Found
This week, a dead oarfish was found washed ashore on Catalina Island, CA. The fish was 14 feet in length and was found missing its tail. Oarfish are deep-sea creatures and are generally challenging to study. Although it is horrible to see the death of a rare creature, scientists have used this as an opportunity to learn more about the species. Read more...
-----------------------------------------------
8. 40% of Europe's Sharks and Rays Face Extinction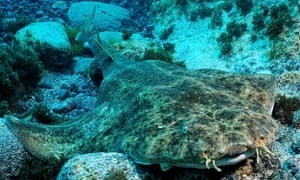 According to the International Union for the Conservation of Nature (IUCN), around 40% of Europe's sharks and rays could be on the path to extinction. This prediction is a result of the troubling fishing practices and volumes reported by the European Commission. This article is a good example of the ripple effect in the marine food chain. Read more...
-----------------------------------------------
Sea Save Foundation is committed to raising awareness of marine conservation. The Week in Review is a team effort produced by the Sea Save staff to provide a weekly summary of the latest in marine research, policy, and news.