1. World's Largest Ocean Cleanup Operation One Step Closer to Launch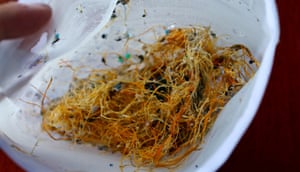 The Great Pacific garbage patch, floating between eastern Japan and the seas north of Hawaii and west of California, has now been estimated to be around 5.8 square miles. Scientists have spent years researching how to clean up the mass of plastic waste and are now one step closer to launching the project! The project has focused on carefully removing the layer of trash without disturbing sea life. The budget for this project is currently 30 million euros that has all been raised through online donations and wealthy sponsors. Approximately 100,000 sea mammals and millions of birds and fish die every year from ingestion of microplastic or plastic entanglement. Read more...
-----------------------------------------------
2. Costa Rica Bill Would Ban Plastic Shopping Bags
This week, a bill was presented to Costa Rica's Legislative Assembly to prohibit plastic shopping bags in the country. The bill would ban plastic bags used to bag groceries at check out and would not apply to other plastic products used by retailers. The bill would allow a five-year phase out period before enacting fines. Read more...
-----------------------------------------------
3. Sea Lion Flippers Could Inspire Stealth Submersibles
Here at Sea Save, we are always fascinated with nature based technological development. An ongoing project at George Washington University has used the motion and shape of sea lion flippers to create super-stealthy underwater vehicles. The engineering team has 3-D printed a robotic flipper to analyze the movement and intricacies for of the mammal. Research continues on how we can apply the unique movements and features of the sea lion in new equipment. Read more...
-----------------------------------------------
4. Shark's Hunting Ability Impaired with Climate
Change
According to a recent study at the University of Adelaide, sharks may soon be unable to meet their energy demands which would impact the entire marine food chain. With the increasing levels of carbon dioxide and warm water, energy demands on sharks increase while the metabolic efficiency of sharks decreases. The influence of ocean acidification has remained unexplored for apex and mesopredators. The team of scientists have published the results of the study in Scientific Reports. Read more...
-----------------------------------------------
That's right! This week SeaWorld announced that they will close the killer whale show at their San Diego location. Over the last year, park attendance fell 12% which is the worst admissions decline of the top 20 theme parks. According to SeaWorld's CEO and president, Joel Manby, "2016 will be the last year of our theatrical killer whale experience called One Ocean". Since the release of the 2013 documentary film Blackfin, SeaWorld has been challenged to review and improve their facilities and activities. Read more...
-----------------------------------------------
6. Ray of Hope for Critically Endangered Mekong Dolphin
A new population study done by the World Wildlife Foundation in conjunction with the Cambodian government revealed that the rate of decline of the Mekong River Irrawaddy dolphin has slowed. The annual rate of decline has decreased five percent since 2007. Years of protecting the dolphin's habitat and removing gill nets has improved the population number but, there is still additional work required to enhance the critically endangered species. Read more...
-----------------------------------------------
7. Paris Terrorism Will Not Impact UN Climate Conference
After the horrifying terrorist attacks in Paris on Friday evening, the world has united to support France and the people of Paris. In the midst of the traumatizing atttacks, the United Nations Climate Change Conference (UNCCC COP 21) scheduled for December 2015. Airline and boarder security will be significantly heightened in France. This week, prior to the terror attacks, there were discussions on the climate deal and whether or not it was legally binding. For more detail on the deal, read
here...
.
On behalf of Sea Save, our hearts and thoughts go out to all impacted my these terrorist attacks.
----------------------------------------------
Sea Save Foundation is committed to raising awareness of marine conservation. The Week in Review is a team effort produced by the Sea Save staff to provide a weekly summary of the latest in marine research, policy, and news.