1. Countdown to Shark Week!
15 Days, 13 Hours, 45 Minutes, and who knows how many seconds...
As you can tell from our social media posts, we are extremely excited for Discovery Channel's 2015 Shark Week! This year, Sea Save has been selected as an official partner of this famous week. Discovery's new commitment to present factual stories that make people care about the subject , makes us so excited to see what is in the broadcast line up on July 5th! Take a look here for showtimes and schedules.
-----------------------------------------------
2. How Has the Media Changed Shark Populations?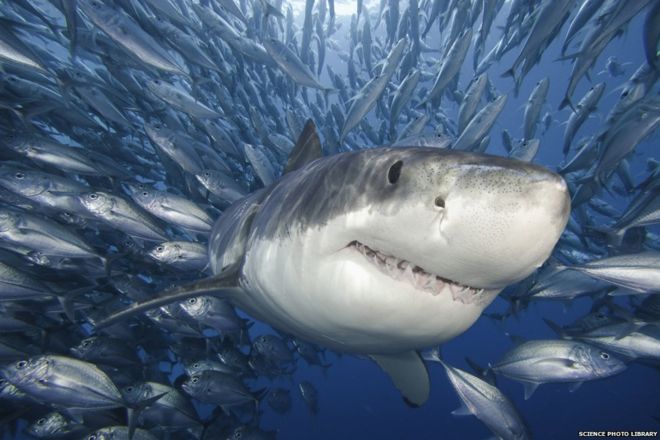 Is it possible that the most terrifying movie and book of 1975, Jaws, shaped the public view on sharks? This year marks the 40th anniversary of " the terrifying motion picture from the terrifying No 1 bestseller". This article discusses how this movie has changed the world's perception on the oceans and the drastic shark population decline after the release of Jaws. Read more...
-----------------------------------------------
3. Deep-Sea Sharks Show Surprising Buoyancy
A recent study published in PLOS ONE reports that at least two species of deep- sea sharks have a small amount of positive buoyancy. Scientists attached monitors to sixgill and prickly sharks and measured their depth, swim speed, and acceleration. with this data, the team observed sharks swimming faster in their decent. These sharks were able to climb for minutes with almost no tail beating! Read more...
-----------------------------------------------
4. The Truth About the Great White Shark High Five
Last week's Week in Review highlighted the popular video of the great white shark high five. Curious about the details of the situation? So were we! What was that great white shark doing with its fin out? the dive master was actually trying to push the shark away from the cage so that it did not injure itself. The shark was around 22 feet long which indicated that she was older than 50 years old and pregnant. Read more...
-----------------------------------------------
5. New Restrictions Aim to Prohibit People From Luring Great White Sharks
The state of Massachusetts has put new restrictions that will help keep sharks away from the shores. These rules ban people from luring sharks to shore by using chum or seal decoys. Both the warm waters and large seal populations have made the Massachusetts water appealing to the shark population. This new regulation will ensure the safety of both the sharks and beach-goers. Read more...
-----------------------------------------------
6. "One Strange Dude" Discovered in Galapagos
This week, a group of new marine species were discovered while exploring the Galapagos Rift. In 1977, scientists first discovered hydrothermal vents in the area. Today the
E/V Nautilus ocean exploration vessel was able to record video of the unique creatures.
The picture on the right is a maroon-colored bethopelagic sea cucumber that was found. To see more pictures and video click
here...
-----------------------------------------------
7. Toxic Algae Bloom in Pacific Ocean Could Be Largest Ever
This year the West Coast has seen the largest toxic algae bloom that scientists have ever seen. Both the size and the location of these blooms are dangerous to the food chain. This year, animal rescue centers are seeing an increase in sea lions, dolphin, and pelican deaths. This was likely a result of high levels of domoic acid accumulation in small fish and shellfish.
Read more...
-----------------------------------------------
8. New NASA Data Shows How the World is Running Out of Water
According to new NASA satellite data, the world's largest underground aquifers are being depleted at alarming rates. At this point, 21 of the world's 37 largest aquifers have passed their sustainability tipping points. This set of data was the first detailed assessment that demonstrated that the aquifers are not suitable for the growing population and increase in industry. Read more...
-----------------------------------------------
Sea Save Foundation is committed to raising awareness of marine conservation. The Week in Review is a team effort produced by the Sea Save staff to provide a weekly summary of the latest in marine research, policy, and news.